A Patient's Story on Peritoneal Dialysis
Category: Blog
Posted On:
When you walk into a hospital patient room, you expect it to feel sterile, clinical, cold, and maybe even a little sad. But, when I walked into Mr. J's room that day, it felt joyous, optimistic, warm, and cheerful. I could even hear laughter as if I'd walked in right after the punchline of a great joke. The reason for this joy was because Mr. J and his wife were being trained on their new automated peritoneal dialysis (PD) machine.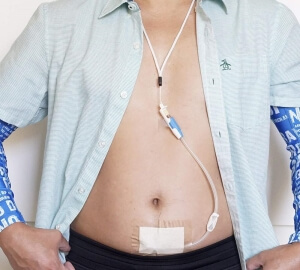 Let me give you some (very basic) background because if you're like me then you've probably heard about dialysis and know it has something to do with kidneys, but not much more. So, the main job of your kidneys is to get rid of toxins and excess water in your body. Dialysis is a treatment that filters your blood of those toxins and water when your kidneys fail. And, peritoneal dialysis is a specific treatment that uses the lining of your abdomen, kind of like a coffee filter, to help with the process of detoxifying the blood.
Now, back to Mr. and Mrs. J.
Two years ago, they realized that something was wrong. He was feeling sluggish and sick. He was having trouble getting out of bed and walking. And, once they realized that something was not right, it started going downhill very quickly. After multiple doctor appointments, they were finally referred to Dr. Pandya. Mr. J was diagnosed with Stage 5 kidney failure with 60 pounds of excess water in his body.
Dr. Pandya, a kidney care specialist, referred them to Blue Mountain Hospital. Even though Mr. and Mrs. J live in Farmington, they chose to come to Blue Mountain Hospital instead of the closer, larger hospitals in New Mexico.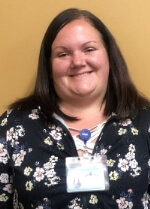 "We wanted to come to Blue Mountain Hospital because we felt like a priority. We knew we could get personalized, on-on-one support. We have more trust in rural hospital staff," said Mrs. J.
When they first arrived at Blue Mountain Hospital, Sara explained the diagnosis and all of the options for dialysis treatment.
"It was our first time doing anything like this and didn't know what to expect, but they really took the time to explain everything and make it easy to understand," said Mrs. J.
They chose PD because of the benefits. Compared to hemodialysis (HD) (a process where a machine filters the blood instead of the lining of your abdomen), patients on PD have quite a bit more freedom. Patients on PD only have to come to the hospital once a month because they take the filtering equipment home with them rather than coming to the hospital three days a week for HD.
After two months on the PD program with Blue Mountain Hospital, they were already seeing results. They were working towards a normal life.
"The uphill battle is behind us now. Even little things like taking out the trash or changing lightbulbs around the house are huge improvements. Two months ago we thought he'd never be able to fish again and now we are planning a fishing trip for this summer," said Mrs. J.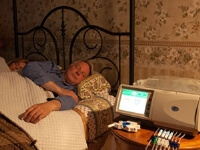 With the initial success, they are now moving onto the newest part of the process which is getting the automated machine. The typical PD program involves taking home manual dialysis bags that you are hooked up to through a catheter for a couple of hours a few times a day and those bags perform the filtering process. The new automated machine performs the same task, but it can be done overnight while you sleep which allows for even more freedom.
Mr. and Mrs. J seemed like they could have talked all day about what a life-saving treatment the PD program is, but they want everyone to know that the whole process is a lot of hard work.
"It takes time to see the results, but the benefits outweigh any of the work. You have to be committed. It requires you to change your life and change your diet, but with the help of the staff we are able to be successful," they said.
Now, keep in mind that this is a very simplified version of the dialysis program at Blue Mountain Hospital. The process of diagnosing kidney failure, choosing a treatment plan, and beginning to recover is lengthy. If you or a loved one wants more information on Blue Mountain Hospital's kidney care program, visit our website, reach out with any questions, or make an appointment. And, if you don't want to take my word for it, then take theirs:
"I would absolutely recommend Blue Mountain Hospital. They have phenomenal, outstanding, and very friendly staff," said the couple.
A huge thank you to Mr. and Mrs. J for being gracious enough to tell their story and agreeing to let me share it with you.