Delicious and Nutritious: Fighting the Stigma of Hospital Food
Category: Blog
Posted On:
When you walk into Blue Mountain Bistro at Blue Mountain Hospital, you will see the hustle and bustle of the staff, hear the "mmms" and "yums" of customers enjoying their food, and smell the sweetness in the air wafting off of the cinnamon rolls.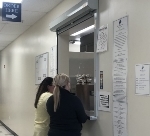 Despite the busy counter, the satisfied customers, and the delectable food offered at Blue Mountain Bistro, some people still turn their noses up or carry around a negative opinion of "hospital food". We kind of get it. There's almost as many classic jokes about hospital food as airline food, but why? Hospitals are about caring, recovery, and health. So, shouldn't the food that we provide our patients and community be served with the same criteria in mind? Blue Mountain Bistro thinks so.
Managed by Debra King along with Jennifer, Frances, James, and Venita, the staff at Blue Mountain Bistro works hard every day to provide nutritious meals to patients in order to aid in their recovery process, create delicious daily lunch and dinner specials to mix up the everyday routine, and serve the community to promote healthy dining options.
If you're hungry or not sure what to get your family for dinner, we suggest that you check out our Facebook page or website for the daily specials, visit our online menu for the full offerings, or stop on by. We will be happy to serve you.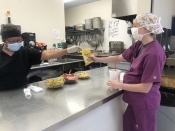 And, you can try to say that I'm a little biased about the food at Blue Mountain Bistro, but just know that I'm writing this blog with a belly full of the Spanish Scramble and a cup of Deb's delicious and fresh coffee that is roasted to order from Craven's Coffee in Spokane, Washington.